Who We Are
We are a research center established to serve as non for profit organization providing services in line with Earth Observations for Sustainable Development Goals (EO4SDG), an international initiative from the Group on Earth Observations, playing a key role to advance global knowledge about effective ways that Earth observations and geospatial information can support the SDGs.
The staff of the Earth Observation Institute are earth scientists, geodesists, GIS, property rights, cadastral, space engineering, business and policy experts, researchers, teachers and students. The institute own research center and several people who collaborate across many disciplines across region and worldwide. We seek to be a strong partner for global earth problems regarding earth geo dynamics, hazard, environment and many other land, soil and water analysis.
ENVIRONMENTAL ENGINEERING
What We Do
We use that knowledge to develop policy and engineer practical solutions to our many challenges: climate change and environmental degradation, land, water, soil, natural hazards, the need for clean and accessible energy, water and sanitation, and the sustainable use of resources. We remain as a center for collaboration with international partner following environment and global earth agendas.
The 2030 Agenda specifically calls for new data acquisition and exploitation of a wide range of data sources to support comprehensive review and implementation processes at global, national, and subnational levels. Article 76 states, "We will promote transparent and accountable scaling-up of appropriate public private cooperation to exploit the contribution to be made by a wide range of data, including Earth observation and geospatial information, while ensuring national ownership in supporting and tracking progress." This presents a unique opportunity for Earth observations and geospatial information to be integrated into national information systems and monitoring frameworks, as well as real-world applications that can reduce and mitigate environmental risk and disasters, creating more secure, sustainable, and resilient societies.
And we are educating the next generation of leaders in earth sciences and sustainable development.
Meet the Team
We are a team of dedicated professionals, ready to do what ever it takes to make your organization grow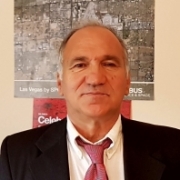 Prof. Ilmi Zherka
Advisory Board, Chairman
Over 30 years of experience in Project management, Land administration, Property rights, Land consolidation, Expropriation, Research scientist and academician.
Earth Observation Institute